RECOGNIZING WIRING HAZARDS
Some of these are more common than others, but here are four main types of hazardous wiring that all homeowners should be aware of: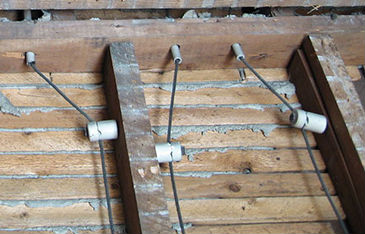 Knob and Tube Wiring
According to the International Association of Certified Home Inspectors, "Knob and tube is very old wiring, at least 65 years old, and in many cases has deteriorated, cracked, or is missing insulation, which can lead to fires." Knob and tube wiring does not meet today's electrical codes. It uses free air to dissipate heat, so any contact with home insulation poses a threat of fire. It is also unable to carry the electric load needed for many modern appliances. Homeowners may try to compensate with the lack of power by taking the dangerous path of oversizing the fuses or the circuit breakers. While this will allow a larger amount of electricity to flow, it can cause the system to overheat and catch fire because it is handling more than it was designed to handle. Do you have a knob and tube wiring problem in Cary, Garner, Holly Springs, Morrisville, Durham, Hope Valley, or Chapel Hill in North Carolina? Another major safety hazard of the lack of grounding is that electrical shocks can happen at any time—to appliances or humans. Since this could result in serious injury or even death, it's important to contact a qualified electrician as soon as possible to deal this problem.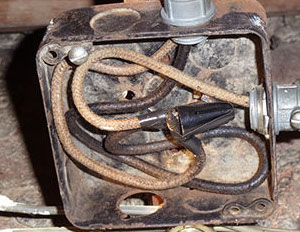 Cloth Cable Wiring
Cloth cable wiring can contain asbestos and poses a serious health risk. It is seldom grounded properly. Today, other types of cable wiring are always treated to make it flame-resistant and moisture-repellient. If you have an older home, there may be an older version of this cable present, which is much more dangerous than the new types of cable wiring that are being used in homes today. Older versions of this cable were sheathed in cloth or asbestos. Buck Parrish Electric has solved this electrical repair problem in Pittsboro, Wake Forest, Raleigh, Saxapahaw, Hillsborough and Schley, also in White Cross, Rougemont and Butner. Asbestos sheathed cable poses a serious health risk and is directly linked to cancer. Cloth sheathed cable may not contain heat properly, and may pose a threat by exposing surrounding areas to excessive heat. Cloth sheathed cable can become brittle over time and crack. This would expose the bare wire and become a huge fire risk in your home. Both asbestos sheathed cable and cloth sheathed cable are seldom properly grounded.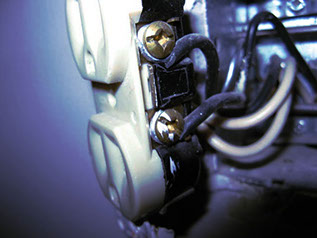 Aluminum Wiring
Fortunately, aluminum wiring is no longer permitted for use in new installations by most jurisdictions, but it can be present in an older home. It is also seldom grounded properly. Having aluminum wiring in your home can create an increased chance of of a high resistance connection or arcing somewhere within your home's electrical system. According to the U.S. Consumer Product Safety Commission, homes built before 1965 are unlikely to have aluminum branch circuit wiring. A knowledgable electrician that has experience with working with aluminum wiring will be able to examine your home and check for potential safety issues if your home has aluminum wiring. Electrical cables installed between 1965 and the mid 1970s in new homes, in additions, and as part of rewired/new circuits may contain aluminum wiring. As one of the best electricians in the RTP area, we can help you with this problem anywhere in our North Carolina service area, including Creedmoor, Mebane, Efland, Elon, Garner, Pittsboro, Jordan Lake, Falls Lake, Lake Orange and many other locations. Aluminum wiring can be replaced or repaired to effectively and permanently reduce the possibility of fire and injury due to failing (overheating) wire connections and splices. It is highly recommended that you hire a qualified electrician to perform this remediation.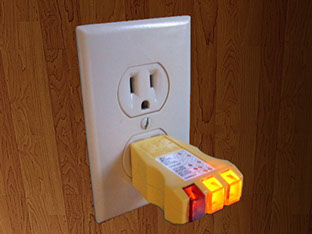 Ungrounded Wiring
Grounding of an electrical receptacle prevents painful or even deadly electrical shocks when electricity flows through an improper path. Every home electrical system should have some type of grounding. Some older homes may still have ungrounded receptacles even after the service has been upgraded, because branch circuit wiring to bedrooms and upper floors has not been replaced. This can be deceptive—because power is still supplied by the older two-wire (no ground) cable, even though there are 3-hole receptacles installed in the walls. In a case like this, the receptacle may be new but the wiring is not. A surge protector plugged into an ungrounded outlet will not operate as the manufacturer intended. This problem can be found anywhere, including structures in Rougemont, Hurdle Mills, Bahama, etc. The best way to find out if a receptacle is grounded is to use a circuit tester. Do you have an ungrounded wiring problem in Shearon Harris, Graham, Gibsonville, Haw River or perhaps Sweepsonville? We can also help you in Lake Miche, Lake Butner, Lake Crabtree or Hyco Lake. If you suspect the wiring in your structure may have a grounding problem, please contact a knowledgable electrician that has experience in resolving this problem.
For more information on replacing all types of older wiring, or bringing your older system up to code, please call the electrical wiring experts at Buck Parrish Electric. We are a full-service company with over 20 years of experience, fully licensed and insured to work at your home or office. We provide residential and commercial services, we offer a transferable warranty and and we're here to help you. We serve North Carolina customers in Raleigh, Durham, Chapel Hill, Carrboro, Apex, Cary, Morrisville, Wake Forest, North Raleigh, SW Wake, Mebane and Saxapahaw. Also regularly serving customers in Bynum, Hillsborough, Schley Bahama, McGregor Downs, Preston, Parkwood, Treyburn, Pittsboro, Governors Club, Timberlake and Research Triangle Park.